Dublin and Galway will clash in a highly anticipated Leinster Hurling Championship match.
Both teams have secured their places in the All-Ireland championship, but Dublin needs a victory to have a chance of reaching the Leinster final. Galway, on the other hand, sits atop the table with seven points. The outcome of this match will have significant implications for the teams' progression in the championship.
Click here for livescores from Dublin v Galway
Head-to-Head Battles:
This encounter marks the 13th championship match between Dublin and Galway, with Dublin holding a 7-4 advantage, including one draw. In recent years, Galway has proven to be a formidable opponent, with Dublin winning only one of their last five championship meetings.
Managerial Rivalry:
Galway's manager, Henry Shefflin, formerly played eight times for Kilkenny against Dublin in the championship and was victorious on each occasion. However, Dublin drew and defeated Kilkenny in the 2013 Leinster semi-final, with Shefflin absent from both matches. On the other side, Dublin's manager, Micheál Donoghue, had a mixed record when leading Galway against Dublin. Galway emerged victorious in 2017 and 2018 but suffered a defeat in 2019.
Goal-Scoring Trends:
In their previous four championship clashes, Galway managed to score only one goal against Dublin, while Dublin found the back of the net on six occasions. This statistic highlights Dublin's proficiency in scoring goals against their opponents, which could play a crucial role in the outcome of this match.
Round Robin Encounters:
The 'round robin' format has seen Galway and Dublin face off three times, with Galway holding a 2-1 advantage. Galway emerged victorious in 2018 and 2022, while Dublin secured a win in 2019. These encounters indicate a closely contested rivalry between the two teams, setting the stage for an exciting clash in the Leinster Hurling Championship.
Starting Teams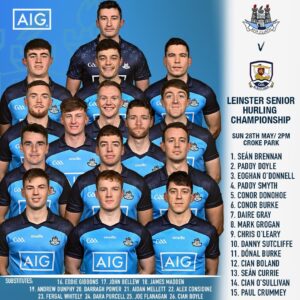 Conclusion:
As Dublin seeks a victory to keep their hopes of reaching the Leinster final alive, they face a tough challenge against table-toppers Galway. With an intense history between the two teams, including recent successes for Galway, this match promises to be a gripping battle.
Both teams will be eager to claim the victory and showcase their prowess in pursuit of championship glory. Bookies expect Galway to win by 7pts.
LiveScores Now Available at IrishScores.com