LOUTH v CORK: A Preview of the Intense Showdown
Click here for livescores from Louth v Cork
Two teams with a recent history in the championship, Louth and Cork, are set to clash once again in a highly anticipated encounter. Despite having met only twice before last year, the intensity and competitiveness between these sides have quickly escalated. Last season, Cork emerged victorious by a margin of four points, setting the stage for another thrilling battle this year.
Road to the Championship 2023
Louth had a solid start to their campaign, securing a hard-fought victory over Westmeath with a scoreline of 2-10 to 1-11 in the Leinster quarter-final. They continued their journey with an enthralling clash against Offaly in the semi-final, which ended in a draw at full time. Louth's resilience shone through in extra time as they clinched a narrow victory with a final score of 0-27 to 2-15. However, their journey was halted in the Leinster final by Dublin, who proved too formidable with a dominant performance, resulting in a 5-21 to 0-15 defeat.
Key Scorers to Watch
Louth possesses a diverse attacking force, with Sam Mulroy leading the way as their top scorer. Mulroy has been in fine form, contributing 1-20 to Louth's tally, including impressive free kicks and penalties.
Ciaran Downey and Conor Grimes have also made significant contributions, accumulating 0-8 and 0-6 respectively. Additionally, Liam Jackson, Conor Early, and Craig Lennon have all showcased their scoring prowess, each chipping in with crucial points.
On the Cork side, Steven Sherlock has been their standout performer, leading the scoring charts with an impressive tally of 0-10. Sherlock's accuracy from frees and '45s' has been vital to Cork's success. Sean Powter, Rory Maguire, and Kevin O'Donovan have also made notable contributions, each adding crucial points to Cork's cause.
Previous Championship Meetings
The clash between these teams in the 2022 All-Ireland qualifiers proved to be an intense affair, with Cork emerging victorious with a scoreline of 2-12 to 2-8.
In the 2007 All-Ireland qualifiers, Cork also came out on top, securing a narrow victory of 0-16 to 0-14. However, going further back to 1957, Louth managed to triumph over Cork in an All-Ireland final with a scoreline of 1-9 to 1-7.
Recent Form and Clash of Styles
Louth's victory over Cork in their Division 2 clash earlier this year serves as a confidence booster for the team. Finishing third in their group, Louth showcased their ability to challenge formidable opponents. They will look to capitalize on their previous success and use their tactical approach to gain an advantage over Cork.
Last year's qualifiers between these sides demonstrated the competitiveness and never-say-die spirit that characterizes their encounters. Despite trailing by six points with only minutes remaining, Louth mounted a spirited comeback, narrowing the gap to three points. However, Cork's second goal momentarily shifted the momentum in their favor. Louth responded with a quick goal of their own, but it wasn't enough to overcome Cork's resilience. The final scoreline favored Cork at 2-12 to 2-8.
Anticipation and Expectations
With both teams eager to assert their dominance and advance further in the championship, the upcoming clash between Louth and Cork promises to be an exhilarating affair. Louth will aim to replicate their previous victory over Cork and capitalize on their diverse attacking options. On the other hand, Cork will seek redemption and draw upon their recent successes to secure a crucial victory. The clash of styles between Louth's tactical approach and Cork's resilience and determination adds an extra layer of intrigue to the match.
Louth will enter the game with the belief that they can replicate their earlier victory over Cork this season. They will look to Sam Mulroy's scoring prowess to lead their attack, while players like Ciaran Downey and Conor Grimes will aim to provide support and contribute to the scoreboard. Louth's defense will need to be resolute and organized to withstand Cork's offensive threats.
Cork, on the other hand, will draw motivation from their previous triumph over Louth in the qualifiers last year. Steven Sherlock will be a key figure in their attack, with his accuracy from set-pieces likely to play a crucial role. Cork's defensive unit will be tasked with nullifying Louth's attacking threats and ensuring their own goal remains secure.
Starting Teams for Louth v Cork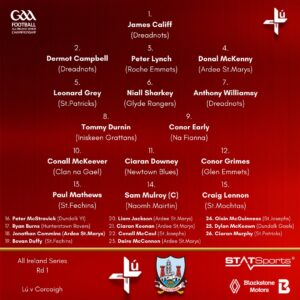 Micheál Aodh Martin (Nemo Rangers)
Maurice Shanley (Clonakilty)
Daniel O'Mahony (Knocknagree)
Tommy Walsh (Kanturk)
Luke Fahy (Ballincollig)
Sean Meehan (Kiskeam)
Matty Taylor (Mallow)
Colm O'Callaghan (Éire Óg)
Ian Maguire (St Finbarr's)
Brian O'Driscoll (Tadhg Mac Carthaigh)
Ruairí Deane (Bantry Blues)
Killian O'Hanlon (Kilshannig)
Sean Powter (Douglas)
Brian Hurley (Castlehaven) Captain
Chris Óg Jones (Uibh Laoire)
Patrick Doyle (Knocknagree)
Kevin O'Donovan (Nemo Rangers)
Tom Clancy (Clonakilty)
Cian Kiely (Ballincollig)
Paul Walsh (Kanturk)
Eoghan McSweeney (Knocknagree)
Blake Murphy (St Vincents)
John O'Rourke (Carbery Rangers)
Mark Cronin (Nemo Rangers)
Steven Sherlock (St Finbarr's)
Conor Corbett (Clyda Rovers)
LiveScores Now Available at IrishScores.com